Novetat/novedad: Chains of finance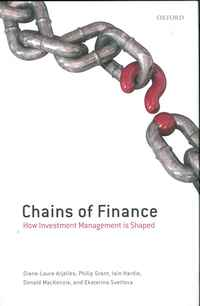 Benvolguts usuaris i usuàries de la Biblioteca, ja tenim un nou llibre disponible: "
Chains of Finance" de
Diane-Laure Arjaliès, Philip Grant, Iain Hardie, Donald MacKenzie & Ekaterina Svetlova
.
Estimados usuarios y usuarias de la Biblioteca, ya tenemos un nuevo libro disponible: 

"Chains of Finance" 
de 
Diane-Laure Arjaliès, Philip Grant, Iain Hardie, Donald MacKenzie & Ekaterina Svetlova.
Resum del llibre/Resumen del libro
:
Investment is no longer a matter of individual savers directly choosing which shares or bonds to buy. Rather, most of their money flows through a "chain": an often extended sequence of intermediaries. What goes on in that chain is of huge importance: The world's investment managers, who are now almost as well paid as top bankers, control assets equivalent in value to around a year of total global economic output. In 'Chains of Finance', five social scientists discuss the ways in which the intermediaries in the chain influence each other, channel the flows of savers' money, enhance investment decisions, and form audiences for each other's performances of financially competent selves. The central argument of the book is that investment management is fashioned profoundly by the opportunities and constraints this chain creates. Whether chains constrain or enable, however, they always entangle, tying intermediaries to each other - silently and profoundly shaping the investment management industry. 'Chains of Finance' is a novel analysis that will make students, social scientists, financial professionals, and regulators looking at the workings of financial markets in a new light. A must-read for anyone looking for insights into the decision-making processes of investment managers and those influenced by and working for them.


Enllaç a la fitxa del llibre/Enlace a la ficha del libro

Vols saber-ne més? Vine a la biblioteca de dilluns a divendres de 16h a 20h i podràs consultar aquesta i altres revistes que tenim a la teva disposició! 


Quieres saber mas? 
Ven Biblioteca de Lunes a Viernes de 16h a 20h 
y podrás consultar esta y otras publicaciones que ponemos a tu disposición!

Biblioteca Financera Ramon Trias Fargas - IEF
Av. Josep Tarradellas, 123, 2ª planta
08029 Barcelona
(+34) 93 412 44 31
biblioteca@iefweb.org
Horari: de dilluns a divendres de 10h a 18h.  
pmb