Novetat/novedad: Business Cycles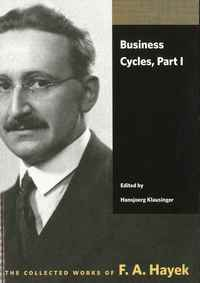 Benvolguts usuaris i usuàries de la Biblioteca, ja tenim un nou llibre disponible: "
Business Cycles" de
Friedrich A. von Hayek
.


Estimados usuarios y usuarias de la Biblioteca, ya tenemos un nuevo libro disponible: 
"
Business Cycles" de
Friedrich A. von Hayek
.


Resum del llibre/Resumen del libro:


In the years following its publication, F. A. Hayek's pioneering work on business cycles was regarded as an important challenge to what later became known as Keynesian macroeconomics. Today, as debates rage on over the monetary origins of the current economic and financial crisis, economists are once again paying heed to Hayek's thoughts on the repercussions of excessive central bank interventions.


Business Cycles, Part I and Business Cycles, Part II bring together Hayek's work on what causes periods of boom and bust in the economy. Moving away from the classical emphasis on equilibrium, Hayek demonstrates that business cycles are generated by the adaptation of the structure of production to changes in relative demand. Thus, when central banks artificially lower interest rates, the result is a misallocation of capital and the creation of asset bubbles and additional instability. Part I contains his two major monographs on the topic: Monetary Theory and the Trade Cycle and Prices and Production. Reproducing the text of the original 1933 translation of the former, this edition also draws on the original German, as well as more recent translations. For Prices and Production, a variorum edition is presented, incorporating the 1931 first edition and its 1935 revision. Part II assembles twelve of his shorter papers on the topic, ranging from the 1920s to 1981.


In addition to bringing together Hayek's work on business cycles, these two volumes also include extensive introductions by Hansjoerg Klausinger (associate professor in the department of economics at the Vienna University of Economics and Business Administration), placing the writings in intellectual context, including their reception and the theoretical debates to which they contributed
.


Enllaç a la fitxa del llibre/Enlace a la ficha del libro


Vols saber-ne més? 
Vine a la biblioteca de dilluns a divendres de 16h a 20h
 i podràs consultar aquesta i altres revistes que tenim a la teva disposició! 
Quieres saber mas? 
Ven Biblioteca de Lunes a Viernes de 16h a 20h 
y podrás consultar esta y otras publicaciones que ponemos a tu disposición!

Biblioteca Financera Ramon Trias Fargas - IEF
Av. Josep Tarradellas, 123, 2ª planta
08029 Barcelona
(+34) 93 412 44 31
biblioteca@iefweb.org
Horari: de dilluns a divendres de 10h a 18h.  
pmb